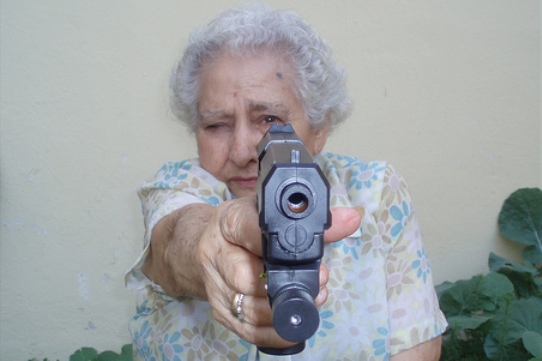 Photo Credit: Golden Emporium (Thanks Kat)
You upload a file onto a free online storage site, but before you can download it, you have to pay. How would you feel? Very pissed off! And if that was the only copy of the file, well, words would either fail you or completely overflow you.
The folks at MediaMax think that such extortion is acceptable, much to the dissatisfaction of MediaMax users!
A bit of background.
We recently posted 100+ Resources for Web Developers on Blog Well which included 3 suggestions for Online Storage:
Omnidrive (1GB storage - 5 GB bandwidth/month)
Box (1GB storage - 10 GB bandwidth/month - 10MB file size)
MediaMax (25GB storage - 1 GB bandwidth/month - 10MB file size)
Personally we have been using Box for well over a year now, and have found the service excellent. In including "Online Storage" in the category we researched a couple of alternatives, and came up with OmniDrive and MediaMax, both of which appeared to offer suitable solutions.
How wrong we were! Sandra alerted us to the issue with MediaMax via a comment on the post. Thank you Sandra.
So we thought we would review both of the alternatives we provided.
Omnidrive now no longer allows users to register. Their "Signup" buttons go to a page which doesn't exist, which has been happening for well over a week now and I can't believe that this is nothing other than deliberate. Registering via their Windows client takes you to a valid signup page; however, the section on selecting a plan is empty and continuing the signup process results in a processing error! So it looks like the folks at Omnidrive have taken their ball and gone home.
MediaMax on the other hand is alive and well. They offer comparatively a large storage limit of 25GB for a free account, and say that the "download" limit is 10MB per file and that you can "share" files up to 10MB in size.
Here are some screen shots of the information they provide: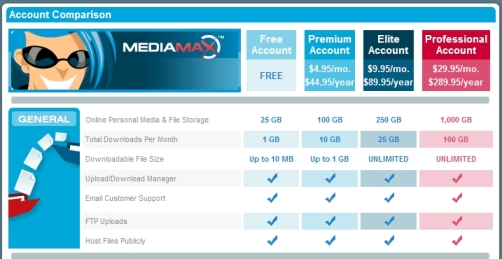 What they don't say is the limit on the size of files for uploading, for which there is no actual limit, but which one would assume would be 10MB as well.
I uploaded a 17MB quite happily, and then attempted to download it, and this is what I got.

So I have to pay a minimum of $4.95 to retrieve the file, or $9.95 if the file was larger than 1GB. Extortion at its finest.
From a legal perspective, MediaMax have done nothing illegal. From an Internet perspective, they should be shown the door.
Can they blame the technology? If they dare! But, Box, which limits file uploads to a maximum of 10MB, displays a friendly message informing you that the free account limit has been exceeded and the file cannot be uploaded unless you pay per file or upgrade the account.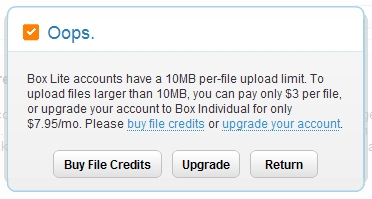 Can they say that all other online storage providers do the same thing? With respect to bandwidth, they can; however, at the start of the next month, the file will be available to download, which is completely acceptable for a free offering.
So MediaMax, free all those files you have imprisoned and do what Box does or shut up shop and get off the Internet.
Finally, in reviewing other online storage offerings here are some notes on the ones we now include in the list, in no particular order:
5GB free storage
AOL signup required - good for some, bad for the rest
Ads
Interface is quite good
Downloading via browser is quite clunky but I was able to upload and download a 14.8 MB file without issue.
Client application available.
30 GB free storage - 25 GB media (phots/music/videos) and 5 GB non-media files
Files deleted if the account is not used within 90 days
Windows client available for performing backups.
1 GB free storage
10 MB file size upload limit
10 GB bandwidth/month
Sharing available
6GB free storage
100 MB file size upload limit
20 GB bandwidth/month
Good feedback when uploading
Sharing available
Able to ZIP a previously uploaded file - cool feature
Upload limit enforced - although error message display (floats at top) is not obvious at times
Caution: Down the right hand side of the home page they show the latest images uploaded, which may not be appropriate for some, and have not changed within the last 24 hours.
Unlimited free storage
600 MB file size upload limit
Files deleted after 45 days
Waiting time before download begins is imposed (removed for premium (paid) account)
Unspecified download limits
1GB free storage
50 MB file size upload limit
Sharing is coming soon
There are a lot of free online storage offerings available, but with free you "get what you pay for". So I would treat files uploaded as dispensable, in that they may be deleted, either due to the provider negligence (server crash, insufficient backups etc) or going out of business. Back them up on DVD's or a backup hard disk, and use free online storage offerings as a convenient way to access your data, especially when you are out of the office or away from home.
Rather than use an explicit online storage offerings, the following suggestions make use of free storage which is packaged for a specific purpose.
Use the GSpace FireFox extension which allows the Gmail 2MB of storage to be used as one would any online storage offering.
There is also a GMail Drive Shell Extension, which allows access to the GMail 2GB of storage from within Windows Explorer, so you can drop and drag files to/from your local disks. However, I would not recommend it as it crashed on, which kills the explorer.exe process, which is responsible for providing the Windows Taskbar, and this disappears!
WordPress.com provides 3GB of storage per blog.
So create a private blog and create posts which contain your uploaded files.
With the names of Google and Automattic behind them, it does give a certain piece of mind with respect to continuity of service.
If you know of any others, or good/bad experiences, please leave a comment.
Sphere: Related Content