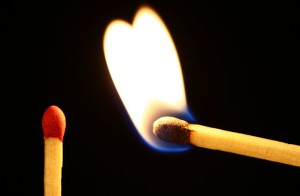 While there are some Web publishers that truly 'get' the social Web, it seems that many others–specifically corporate and mainstream media bloggers–aren't quite there yet.  And, they won't get it until they understand its raison d'être.
Fundamentally, the Web and the Internet came about to enable linking.
The Internet began because people wanted to link computers. The Web began because Sir Tim Berners Lee wanted to be able to link documents. The social Web is based on linking to the ideas and thoughts of others.
So why do people still hesitate before linking to another site?
Fear of people going elsewhere and not returning
Fear of low engagement
Fear of advertising revenue loss
But guess what? It turns out the fears are unfounded.
In a recent post, Scott Karp examines the Drudge Report, a news site completely made out of links and advertising, and explains how linking to others offers the highest engagement - go have a read.
Interestingly, the folk behind the Cluetrain Manifesto have been saying this for years.
Lesson: Link out and link lots!
Tip: Open new links in the same window; let the user be in control
Must Read: Cluetrain Manifesto
Image Credit: Furious George 81
Sphere: Related Content